If you are in final year of your engineering college life, then you will be doing your project and so you will be in need of IEEE conference and journal papers as base or reference papers. You can get these papers, that is, you can download these papers only if you have paid account in the IEEExplore website. Otherwise, you need to depend on your college institutional services for downloading the papers from this website. So for those who don't even have this institutional facility will depend on their professors or friends from other colleges.
There are many trick articles like free movie downloads websites, tricks website etc but now I'm going to teach you the trick for downloading IEEE research papers for free. There are so many ways that you can get your research papers freely without even paying one single penny. In this article, I'm going to share with you guys all the possible ways that you can try to get your research papers. Here it comes:
#1 Downloading Through Sci-Hub.org Website
So let me tell you one cool trick using which you can download any number of papers from the IEEExplore website for free. Just follow the following steps one by one:
Go to ieeexplore.
2. Search your paper topic and open any paper in a new tab. Then copy the arnumber which you can find in the URL of that paper page.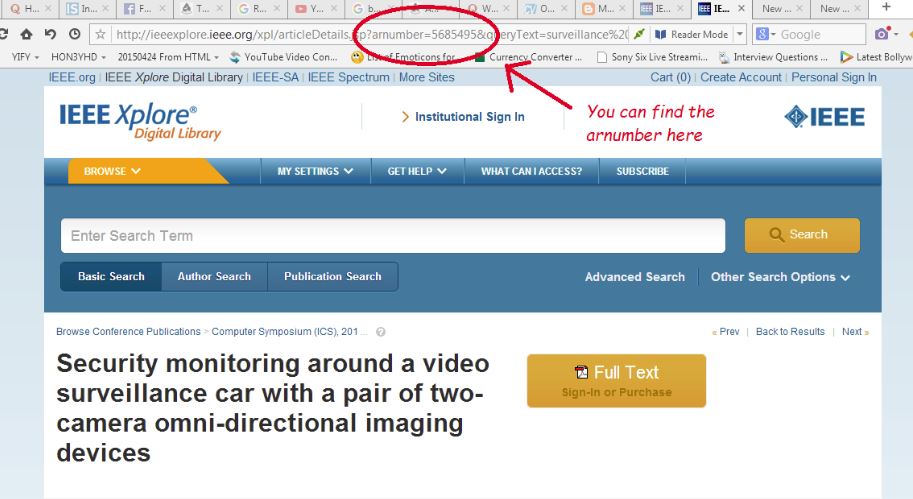 You may also check: https://psiphonappdownload.com/
3. Replace the xxxxxxx in the following URL with that copied arnumber and refresh.
http://ieeexplore.ieee.org.sci-hub.io/xpl/articleDetails.jsp?arnumber=xxxxxxx
4. Then you will be redirected to the download page which looks something like the following screenshots.
5. Just enter the captcha in the box and click download.
6. Click directly the download link for download.
If you are not able to access sci-hub.org from your country, then try installing this Firefox and Chrome add-on Proxmate (Chrome – Firefox).
We hope that all you guys are getting benefitted through this trick. Please support us by donating some few bucks to our Paypal(http://paypal.me/hackzhub) in order to keep running our website.
Some readers informed us that the above solution is not working anymore. So, our Hackzhub team did some research and found some of the other working methods to download the IEEE research papers for free.
#UPDATE 1
#2 Mirror Websites For http://sci-hub.org
If sci-hub.org website is down, then try any of its mirror websites:
If you are not able to access the mirror sites too, then try accessing those with proxy because these sites are banned in some countries like Russia. Keep trying by refreshing the link.
#3 Through Cornell University Library
Many researchers publish their research work on Cornell University Library http://arxiv.org/ just before they get accepted on journals. So you can search for the research papers in this site. It is also to be noted that most often the authors don't update their papers in this site.
#4 Through Highwire ePublishing Platform
You can also look for your paper here at Highwire ePublishing Platform http://highwire.stanford.edu/lists/freeart.dtl
#5 Other Alternatives
Just use the title or link text of the paper or other references like author name, year etc. to search in these alternative websites.
#6 Searching Google
Most of the research papers are already available on the web for free. So try searching that paper in Google.
If not found, try searching that paper in

Google Scholar

because this Google site is specially dedicated to all kinds of research papers.
#7 Help From College
Most of the colleges will have their own yearly subscription to these IEEE research paper websites. So you can directly download the research papers you want right from your college itself.
If your college doesn't have such facilities, then you can ask your professors for such research papers because most of the professors will have access to such research paper websites.
If not your professors, then you can even approach your college librarian for such papers because I bet that these people know about these things very well.
#8 Help From Friends
You can even ask your friends in other colleges for downloading that particular paper if their college has subscribed to IEEE sites for downloading papers.
#9 Help From Authors
If all the above things don't work, then you can directly contact any one of the authors of that paper through his/her email id. Believe me, I swear that they will send you their research paper because of your keen interest in their work. Sometimes, it won't work if it's a very old paper.
#10 Help From Us
For those who can't understand and find it difficult to follow the above steps can comment your paper link and your Email Id. So that I can download it and send it to you.
For Tech-related articles, visit MyDigitalLand.com
We hope that all you guys are getting benefitted through this trick. Please support us by donating some few bucks to our Paypal(http://paypal.me/hackzhub) in order to keep running our website.
Also, Check Out the following:
Download or Save GIFs from Twitter
SMS Bomber trick…
Thank you for reading our article and if you have any doubts/queries/suggestions, please feel free to comment below. If you find this article useful and knowledgeable, please share it with your circle. You can even contact us privately through the contact form or through social networking sites like Facebook, Twitter, Google+ etc.