I think everyone with two SIM cards on an Android mobile should try using Dual WhatsApp. Nowadays, smartphones users are billion in number. The numbers are increasing day by day. Especially, the Android users with Dual SIM mobiles are the most. So, most people with social media madness think about dual Facebook, Instagram or WhatsApp accounts.
You may be thinking running multiple GB WhatsApp accounts on one single mobile is hard. But, my friend, that was history. Nowadays, with some many WhatsApp MODs like GBWhatsApp, Fouad WhatsApp, WhatsApp Plus and more, it's too easy. Other Google Play Store apps like Parallel Space and others for the Dual WhatsApp are available.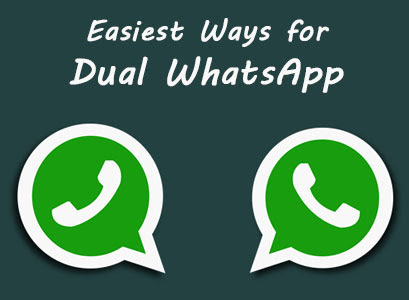 Here, at HackzHub, we have the easiest ways for you run two WhatsApp accounts. We guarantee you that our methods are easiest on the internet. You just need to check the below section to get started.
How to run Dual WhatsApp IDs in One Android Phone:
Let's straight get to the point without wasting any time. There are multiple ways for Dual WhatsApp. We can either use OGMods or GBMods. Also, Fouad WhatsApp and Clone Apps can help us. So, continue to the further steps to run 2 or more WhatsApp IDs in your Dual SIM mobile.
1. GBWhatsApp
There are many WhatsApp modified applications out there. But, the GBWhatsApp beats them all. With its super theme store and brilliant customization, it wins our hearts. So, let's proceed and check all the details below.
#1 Step – Go to the Whatsapp GB APK Download page for downloading the latest GBWhatsApp version.
#2 Step – After visiting the page, get the GBWhatsApp for Android APK and install it on your Android phone.
#3 Step – Great!! Now you can see the new installed GB WhatsApp icon on your phone app drawer. You have successfully got the 2nd WhatsApp. Noe, you need to activate your account with a new SIM or second SIM card number. Here is the next step.
#4 Step – Open the app, enter the alternative mobile number. Enter and verify it by OTP as we usually do. The verification normal as the default app. Now, enjoy Dual WhatsApp with GBWhatsApp for Android.
So, the 1st method with GBWhatsapp is too easy. It is for the all the people out there. No need of high technical knowledge. So, use the above method and get the 2nd Whatsapp account. Use the WhatsApp GB MOD app for chatting with friends or business purpose.
Let's dive into the 2nd easy method.
2. Parallel Space App
Clone App makers are also one of easiest things for dual Whatsapp. Nowadays, many App Cloners are out on the Play Store. But, the Parallel Space is the first and oldest. I have used it and petty much satisfied. Other apps like NoxApp Plus, 2Face are there. But, I prefer Parallel Space. They have also released their new Parallel Lite app. That is very much lightweight. Now, follow the below steps to use the second Whatsapp ID.
#1 Step – Download Parallel Space App.
#2 Step – Open the app after installing. Now, select the WhatsApp icon and click on "Add" button.
#3 Step – Now, you have got the clone of Whatsapp, i.e., 2nd WhatsApp (3rd after GBWhatsApp).
#4 Step – Click on the Clone WhatsApp icon and register using the new Mobile number.
#5 Step – Verify it with the help of OTP code and enjoy your 2nd WhatsApp account.
So, the Parallel Space app method is also cool and easy. Don't forget the GBWhatsApp MOD too. That also come with Dual WhatsApp option with the super exciting extra feature. We made this article to help you run the second WhatsApp account on the same phone. So, we think you have succeeded to do so with the above easiest methods.
The above methods will work fine for android users. But if you are using iPhone, then for that we will suggest you to check out the below article link which explains how to use dual/two whatsApp accounts on iPhone without jailbreak.
Also Read: Two WhatsApp Accounts on one iPhone
Thanks for visiting HackzHub. Keep visiting more such tips and tricks. If you have any doubts/queries/suggestions, please feel free to comment below. If you find this article useful and knowledgeable, please share it with your circle. You can even contact us privately through the contact form or through social networking sites like Facebook, Twitter, Google+ etc.